Edition 7th: exceptionnal, once again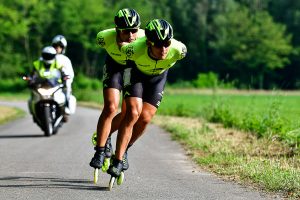 He was there to discover. They were there to win. Mister Ewen Fernandez marked this edition. 2h43:59 to skate 103km. Almost 38km/h on average, breaking away with 3 skaters at km1, then 2 with his teammate Guillaume De Mallevoue at km23 and finally on his own in the last 20km. Well done Ewen!
Congratulations to Clément Mailler as well, who exæquo with his friend Sam Régé-Gianasso, has won his 3d victory in the Rollerski race.
No wind, no heavy heat. An ideal weather for a record and an incredible day of skate & happyness!
Right aside the champions, many where there. Not all have won, but they experienced their own way an amazing rolling adventure. With skates, rollerskis and for the first time skateboards, each of them was here to reach its limits, and be the first actors of an exceptionnal event.
An event carried out by volunteers, themselves champions in their welcoming behavior for any but all athletes, whoever they are.
An event that stands thanks to its faithful & strong sponsors, who make Roll'Athlon100 possible.
Thank you. Congratulation. All
Find out the 2018 results (and all previous ones), pictures & videos in the Media/Goodies page
The organisation team
Françoise, Dominique, Françoise, Didier, Margaux, Béatrice, Hélène, Aurélie, Elodie, Alice, Xavier, Angèle, Thierry et Julien